NP-Notepad version1.2
NP is very simple Notepad application.
You can set the categories for each note, and can set the password protection.
OS:Android ver1.5 later
Ver1.2 New Features New
View mode/Auto scroll
Share
Features
Filter categories
Export and Import text file
Display Property
search
Change font size, color
Backup & Restore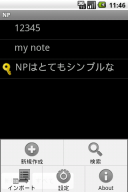 Document:
---
(C)BK-Lab,Inc.