NP-Notepad version1.2
■List View
New:
Create note.
Filter categories:
Displays the selected category notes.
■Option Menu
You can do the following to display the options menu by pressing the menu button.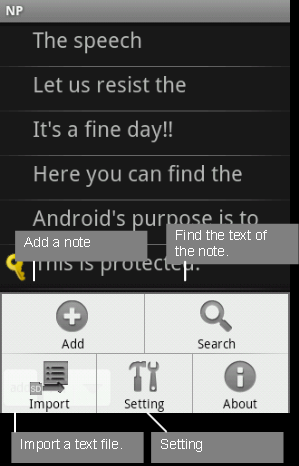 New:
Create a note
Search:
Find the text of the note.
Import:
read text file as NP data notes from External media, such as SDcard.
Setting:[>>details]
various NP settings.
1)notes border
2)Font Size:small、normal、large
3)Background:Set the background color and text color
4)Display Password:Set whether to display the characters in 'input password'.
5)Backup:back up note and categories to external media.
Context Menu
To show a context menu on long click.The following actions can be.
Edit:
View:
Share:
Delete:
Export:
Output as a text note to the SD card.(to a NP folder)
Property:
Displays the properties of the note.
---
(C)BK-Lab,Inc.